Treatment and Management will be:

 Pro-active

 Evidence-based whenever possible  

Tailored for each individual case  

Fully explained  

 Independent*
Dermatology, encompassing skin, ear, claw and anal sac disease, represents a major element of the small animal general practice case load. It can be a challenging aspect of clinical companion animal work. Recurrent skin irritation is especially frustrating and upsetting for the pet, the owner and veterinary surgeon concerned. Repeated visits to veterinary surgeons can become costly and time-consuming for chronic cases.
I offer extended consultation periods, often sixty to ninety minutes duration, to encompass a complete discussion of the patient's dermatological and general clinical history, including the response to previous treatments. I will perform various diagnostic tests and explain the possible diagnoses. I will schedule future diagnostic tests, establish a long term treatment regimen and tailor advice for each individual patient.
A detailed report will be sent promptly to the referring veterinary surgeon. Case progression will be monitored during re-examination and through e-mail and telephone follow-up.
There are continuous advances in veterinary dermatology including improved understanding of underlying disease processes, recognition of new diseases, advanced diagnostic techniques and innovative treatments. I endeavour to keep up-to-date with the ever-changing and expanding field of dermatology around the world, in order to better manage and/or alleviate acute and chronic skin disease in our pet population.
*I am the only independent, full-time veterinary dermatologist working solely within the South-East. I have complete clinical freedom from corporate practice prescribing constraints.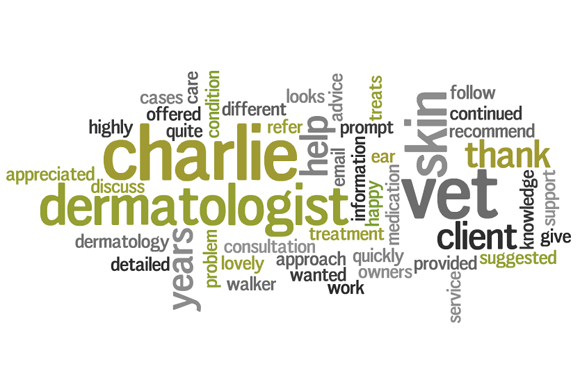 Client Comments:

  'Thank You So Much for seeing 'Monty' today. We were both extremely impressed with the service and attention you provided along with the wealth of advice and planning 'Monty's treatment.'
Client: Gary & Koo Kirby, 'Monty'
(An urgent referral seen in less than 24 hours from a newly registered practice)

 Just to say that (name withheld) looks awesome. Everybody is commenting on how lovely she looks, how much coat she has, how lovely her paws are. You should be very proud of everything you have done for my girl. You are just amazing!
An Owner, Breeder & Show Competitor (name withheld)  



  "Thank you for all your help.  'Tag' is thrilled not to have to wear a collar anymore and is happily rediscovering the joys of the outside world"
Client: Alison Barnes, 'Tagesin'
Referring Veterinary Colleague Comment: